Symposium on "Safety in Garment Industry, Five Years after Rana Plaza" (30 April, 2018)
Symposium on "Safety in Garment Industry, Five Years after Rana Plaza" (30 April, 2018)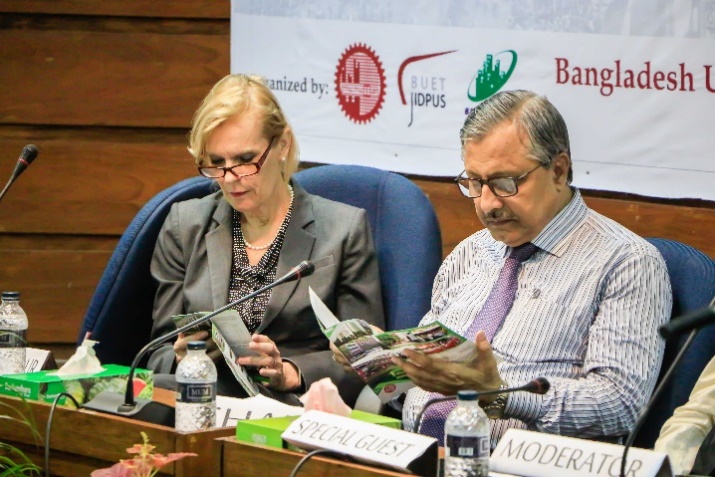 On 24 April, 2013, the factory building of Rana Plaza collapsed with a death toll of 1,129 lives and injury of approximately 2,051 workers. In the completion of five years after the deadly collapse, BUET-JIDPUS in association with BNUS conducted a day-long symposium on "Safety in the Garment Industry, Five Years after Rana Plaza" on 30 April, 2018. The ceremony commenced at the Council Building, Bangladesh University of Engineering and Technology (BUET). The symposium was presided by Prof. Dr. Saiful Islam, Honorable Vice Chancellor, Bangladesh University of Engineering and Technology. Her Excellency, Leoni Cuelenaere, Ambassador of The Kingdom of Netherlands to Bangladesh was present to grace the ceremony as Guest of Honor. Md. Shamsuzzaman Bhuiyan, Inspector General, Department for Inspection of Factories and Establishments (DIFE) and Brigadier General Ali Ahmed Khan, Director General, Fire Service and Civil Defence (FSCD) were present as the Special Guests.
Professor Dr. Mehedi Ahmed Ansary, Director, BNUS; Professor Dr. Raquib Ahsan, Director, BUET-JIDPUS, Chair of Symposium and Dr. J.W.F Wiersma, Research Fellow, BUET-JIDPUS, Co-Chair of the Symposium attended the ceremony. The symposium was also attended by faculty members of various departments of BUET, including BUET-JIDPUS, Electrical and Electronics Engineering (EEE), Mechanical Engineering (ME), Petroleum and Mineral Resources Engineering (PMRE) and Urban and Regional Planning (URP). The symposium offered an opportunity to share and discuss ideas and experiences on different aspects of safety management in Ready-Made Garments (RMG) sector of Bangladesh.
Twelve papers related to structural safety, electrical safety, fire safety, gender and policy issues of RMG sector were presented and discussed in the symposium. Authors from reputed research institutes, international organizations and faculties of BUET were invited to submit and present their paper. The programme was arranged into two different sessions. The first session contained six papers focusing on the institutional and policy aspects of safety, fire safety and boiler safety scenario of Bangladesh. Seven papers were presented in the second session with main focus on the technical issues, including in-situ concrete strength, electrical safety guidelines and computer modelling of fire safety.
Titles of the presented papers, name of authors and respective organizations are listed below-
First Session:
1. "Safety in the RMG Sector: Performance and Progress of DIFE after Rana Plaza" by Tasnim Tarannum, BUET-JIDPUS and Mehedi Ahmed Ansary, Dept. of CE, BUET
2. "Organizational Learning Accrued through Accord and Alliance Led Initiatives: Can We Take Lesson for the Future?" by Khondaker Golam Moazzem, Research Director, Centre of Policy Dialogue (CPD)
3. "Bangladesh Accord: Driving Safety" by Michael Bride, Accord on Fire and Building Safety in Bangladesh
4. "Fire Safety in the Ready-Made Garment Industry in Bangladesh, Five Years after Rana Plaza" by J.W.F Wiersma, BUET-JIDPUS
5. "Boiler Safety in the Ready-Made Garments (RMG) Sector of Bangladesh: An Assessment of the Existing Scenario" by M. I. Khan, T. R. Siddiqui, M. Wasi and M. A. Rahman, Dept. of ME, BUET
6. "Can Rana Plaza Happen Again in Bangladesh?" by Uttama Barua, Dept. of URP, BUET, J.W.F. Wiersma, BUET-JIDPUS and Mehedi Ahmed Ansary, Dept. of CE, BUET
Second Session:
1. "Reliable Measurement of In-Situ Concrete Strength and Implications in Building Safety Assessment" by Raquib Ahsan, Ishfaq Aziz, Shamontee Aziz, BUET-JIDPUS and Md. Shamim Kabir Sarker, Alliance for Bangladesh Worker Safety
2. "Workplace Safety: Empowering Workers Can Make a Difference" by Syed Sultan Uddin Ahmed, Executive Director, Bangladesh Institute of Labour Studies (BILS)
3. "Computer Modelling of Fire Safety Performance of a Ready-Made Garments (RMG) Building in Bangladesh" by F. M. Haque, M. A. R. Khondoker, M. Wasi, R. M. Khan, S. A. Mahmud and M. A. Rahman, Dept. of ME, BUET
4. "Do Women and Men have Different Perceptions on Hazards in the Workplace?" by J.Q. Li, Fair Wear Foundation; J.W.F. Wiersma, BUET-JIDPUS and M.B. Rahman, Fair Wear Foundation
5. "On the Guidelines for Electrical Safety Audits in RMG Industry of Bangladesh" by Mohammed Imamul Hassan Bhuiyan, Shuvro Prokash Majumder, Yeasir Arafat, S.M. Mahbubur Rahman and Md. Zahurul Islam, Dept. of EEE, BUET
6. "Fire Evacuation Safety in Bangladesh RMG Factories: A Comparison of Standards and Non-Compliance Issues of Means of Escape" by Uttama Barua, Dept. of URP, BUET; J.W.F Wiersma, BUET-JIDPUS; Maruf Billah, BNUS; and Mehedi Ahmed Ansary, Dept. of CE, BUET